10 heroes from 10 years of Microsoft Software and Systems Academy
We're celebrating ten years by catching up with ten tech professionals who got their start with MSSA. Learn what the careers of MSSA alumni look like 2, 5, 7, 10 years down the road, and how they're driving impact in the IT industry.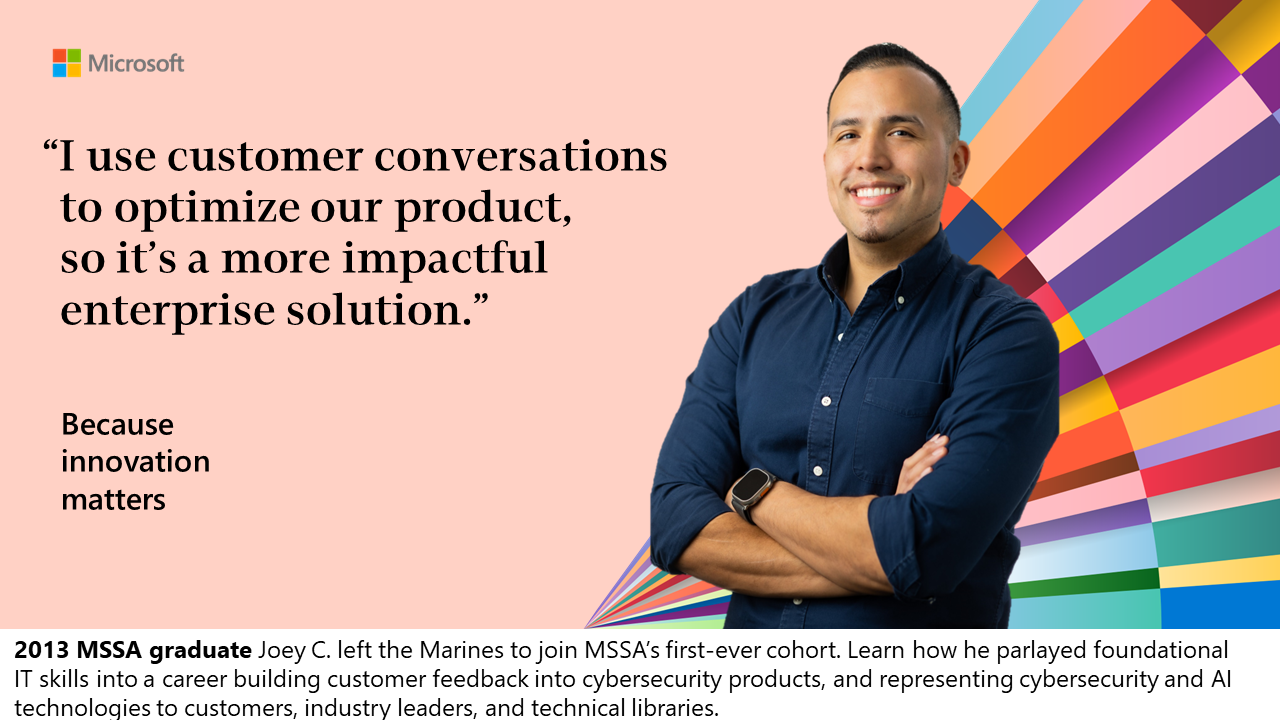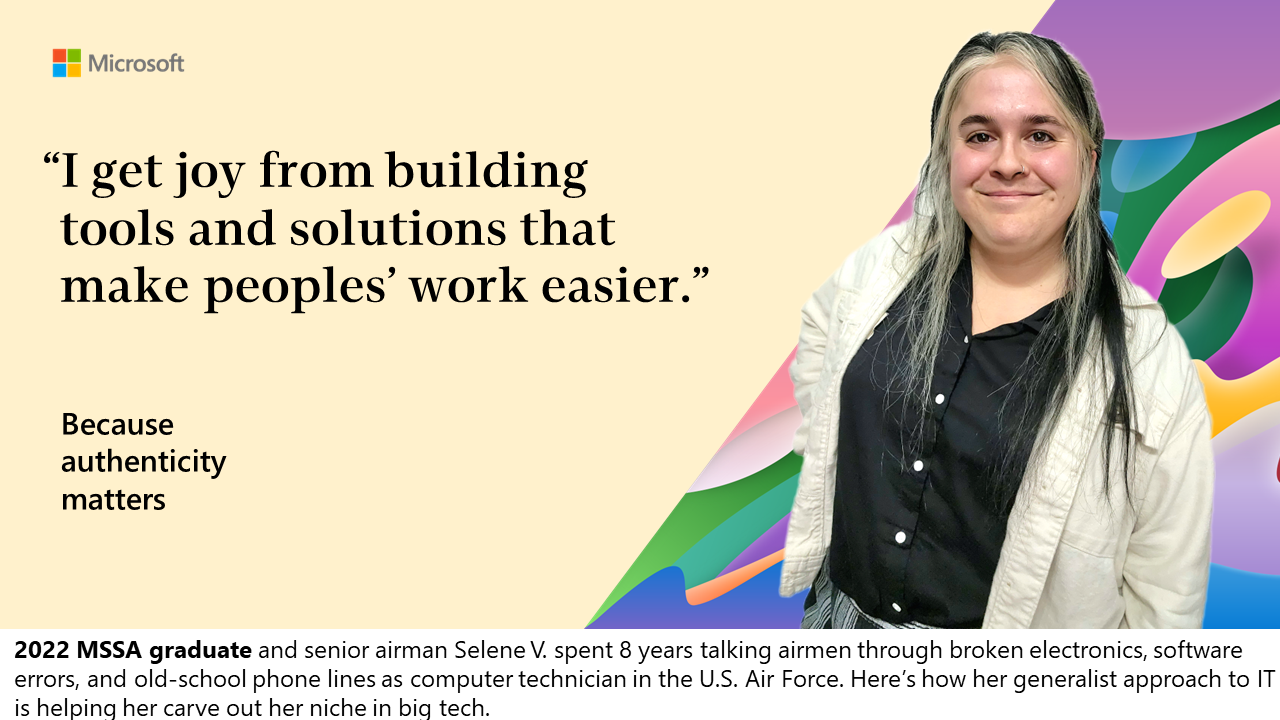 We set out to equip military career switchers with the skills to forge meaningful careers in IT.
Learn how we've evolved over a decade to stay true to our mission, and about the companies investing in MSSA graduates' career success.
Our 3.6k MSSA graduates have exceeded our wildest hopes with their impact.
Catch up with 10 IT professionals who got their start with MSSA. Learn about the careers they're building and their impact in the companies and projects they work with.
The veterans we've worked with and community we've built inspire us for the future.
The relationships we make at MSSA change lives. Discover new ways to engage with MSSA and alumni on our NEW! MSSA Alumni Network homepage.
3,642

military veterans graduated from MSSA

>1k

companies employ MSSA graduates

2500+

MSSA alumni direct-hired by Microsoft or our hiring partners

2

municipal veteran training programs developed with our model

175+

job titles MSSA graduates have accepted upon graduation

617

Microsoft employees mentor veteran hires

95%

graduation rate from MSSA

8

years of military service (MSSA participant average)

98%

graduates employed or are pursuing further education as a result of MSSA

92%

MSSA graduates are employed in tech

2 in 3

MSSA graduates rank mentorship as a program highlight
---
The making of a groundbreaking program
10 years ago we stood up the Microsoft Software and Systems Academy to connect the dots between the shortage of technical talent and the abundance of under-employed military talent. After 10 years, we couldn't be more proud of our graduates and our impact.
Read Chris Cortez blog reflecting on MSSA's 10-year milestone
MSSA Hiring Partner spotlight
Powering our talent ecosystem
Hiring partners play a vital role in funneling MSSA alumni throughout our industry. Learn about key contributors to the MSSA hiring ecosystem and how they facilitate MSSA graduates' transitions to meaningful careers in IT.
Southwest Airlines
Southwest Airlines is one of the most sought-after MSSA partner companies because of their culture, benefits, work flexibility, and growth opportunities. Warrior Hire is a specific program in partnership with MSSA that brings groups of 15 to 20 graduates into associate roles at Southwest Airlines and provides them with technical training, career support, and mentorship as they begin their civilian careers. Much like the cohort structure in MSSA, being part of a Warrior Hire "co-heart" at Southwest is exciting and rewarding. The synergy between Southwest and MSSA has inspired dozens of graduates to launch their post-military careers through Warrior Hire.
"Southwest Airlines Technology have been an MSSA Partner since 2018. We have hired almost 50 MSSA graduates over the last 5 years. We are so thankful for the MSSA Program and its graduates who are prepared for transition into corporate careers. We are grateful of our outstanding Men and Women that have so honorably served our Country and are now in the Southwest Airline ranks proudly representing our great company, their Military Branches, and our beloved Warrior Hire Program!"
Derek Whisenhunt—Head of Airport Technology Infrastructure Engineering and Operations, Southwest Airlines
CACI
For more than six years, CACI has been a committed MSSA hiring partner, establishing, or enhancing the IT careers of dozens of graduates. With one-third of their workforce having served, their military-friendly culture and history of supporting the veteran community has made them an employer of choice for many program participants. CACI continues to be an anchor company in MSSA's Hiring Partner family and is committed to the retention and growth of its veteran talent.
"CACI International, Inc. is proud to be a long-standing employer partner with MSSA.  Over the past 6 years we have found every cohort of MSSA student vets and transitioning service members to be an exceptionally skilled, highly motivated, job-ready IT talent pipeline.  And the MSSA team and its talent portal are very effective and dependable in enabling our recurring student engagements and job connections. Congratulations on MSSA's  10th Anniversary and thank you for all you do for veterans!"  
Gary Patton, MG, USA (Retired)—Vice President, Veterans and Military Affairs at CACI International Inc.
Oracle
MSSA actively seeks partner companies like Oracle that value the unique qualities our military veterans bring to the table. The company's dedicated military hiring initiatives, training, and mentoring programs are contributors to MSSA's success over the last few years.  Oracle's culture eases the transition from military life to the corporate environment and offers veterans and spouses opportunities to connect through social engagement and volunteering. A significant number of MSSA graduates have found a home at Oracle in technical support, account management, and leadership roles.
"MSSA graduates have consistently demonstrated excellence as valuable additions to the Oracle team. The combination of professional military experience and the comprehensive education provided by MSSA equips them well for both technical and technical support positions."
Mindy Jaffar—Military Talent Programs, Oracle
Booz Allen
Booz Allen Hamilton is a key contributor to MSSA's hiring partner ecosystem, offering service members and spouses the chance to develop and deploy their technical skills in cyber, software development, and networking. More than 50 program graduates have started their civilian IT careers at Booz Allen, with many more coming on board later as experienced professionals. As a top military employer, Booz Allen boasts a robust network of veterans that support, encourage, and mentor MSSA grads as they transition to their new roles.
TEKsystems
Since 2017 TEKsystems has been a dedicated MSSA Hiring Partner, directly employing more than 70 graduates and supporting program alumni with opportunities in industries such as finance, healthcare, energy, and transportation. With roles across all MSSA learning pathways, TEKsystems offers an award-winning, military-friendly culture, unlimited growth potential, and a commitment to help veterans reach their career goals in technology.
Career opportunities for current, former, and transitioning service members